Pores are one of the definitive issues that every oily skin has to face especially during the summers. Genetic factors and aging also boost pore formations. The clogged pores if not treated in time can give rise to acne and blackheads.
The sebaceous gland that secretes excess sebum from the lower layer of your skin pores gets formed. When a person gets older the elasticity of her skin gets reduced and during this time the open pores can create worst situations. Thus we have explained easy ways to unclog your pores with homemade remedies.
What are Open Pores?
The human skin is the largest organ that covers the entire structure of our body and there are numerous pores present on the skin. Pores are tiny openings in the skin that release oil and sweat. The main functions of these pores are to regulate body temperature.
You can reduce the size of the pores on your face but, cannot totally close these minute holes contain hair follicles.  Problems like pimple, acne, whiteheads, and blackheads become very common when the pores get enlarged and clogged with dirt.
Causes which Influences the Occurrence of Large Pores on Skin
There are several causes of large open facial pores. They include:
Overexposure to the Sun
Pollution around
High levels of oil (sebum) production
Reduced elasticity around pores
Thick hair follicles
Heredity reduction of collagen production in the skin, caused by aging
There are various ways in which you can control the size of your facial pores. Using natural products for shrinking pores are more advisable as they are less known for creating any harmful side effects.
10 Home Remedies to Treat Open Pores Naturally
Cool Cucumber to Get Rid of Pores
This is an excellent natural remedy that has the ability to carry away the dirt and refreshes your skin when applied once daily. The cucumber, when placed on the dry skin, gives a very relaxing feeling. It helps to control the pH level of the skin and absorbs the excess moisture. In this way, it helps to regain the skin tone acting as a natural pore minimizer.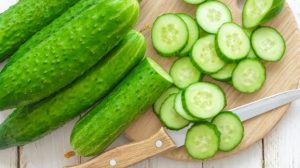 How to Apply
Take 4-5 cucumber slices and add the lemon juice to it. Blent it well, to make a face mask.
Apply this mask on your face.
Let it dry for 15-20 minutes. Rinse with cool water.
To beat the heat try to cool the cucumber in the freezer for a couple of minutes before blending them.
2. Aloe vera
Aloe vera is one of the best natural skin products that suit every human skin. You can use aloe vera gels or can directly extract the juice from the plants.
The clear jelly-like fluids are very useful to get rid of enlarged pores from the face. It nourishes the skin with essential vitamins and clears all the dirt and bi-products of your sebaceous glands.
It rejuvenates the skin and retards the aging process making your appearance younger and beautiful.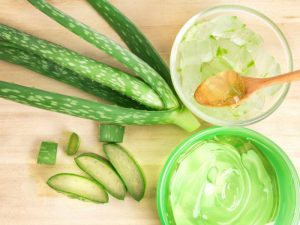 How to Apply
Extract some fresh gel from the Aloe vera plant and apply it on the face.
Massage your skin and keep for 10-15 minutes.
Wash with cool water.
Alternatively, you can use aloe vera gel available in the market. But it is always advisable to use natural fresh gel.
Applying aloe vera will help you smoothen your skin and moisturizes it naturally. You can use this remedy on a daily basis or 2-3 times a week to get rid of dead skin cells and unclog the pores thus making them smaller.
3. Lemon Juice to Minimize Pores on Face
The juicy fruit is very rich in citric acid and Vitamin C. The citric acid works as a natural cleanser as it easily breaks the bonds of the dirt that has been clogged in your facial pores. It also provides natural moisturizer for the skin.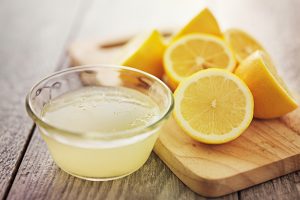 How to Apply
Take 2 spoons of lemon juice and dilute it with 2 spoons of water in a bowl.
Apply it on your face using a cotton ball.
Leave for 10-15 minutes and rinse with cool water.
Note: Individuals who have sensitive skin or have little cuts or burns must dilute the lemon solution with excess water before applying to face as this may give a burning sensation.
4. Turmeric
This is an anti-inflammatory agent and has antibacterial properties that help to heal any cuts or wounds.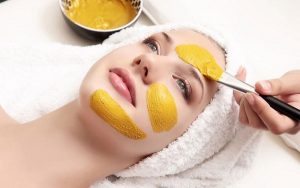 How to Apply
You can make a turmeric paste and pour some milk or rosewater into it. Mix the solution until it gets thicker.
Now, apply this solution all over your face and neck. Let it dry for 20 minutes.
Finally, wash it away with warm water.
Turmeric helps to fight the bacterial skin diseases and minimize large pores within short time gap.
5. Banana
Banana peels are very rich in potassium content. Applying the peel on the facial surface and on the nose helps in cleansing all the impurities from the skin and making it smoother than ever.
Using this method on a regular basis can also reduce the tan marks that are often resulting from overexposing your body in sunlight.
Banana is rich in antioxidants which are another reason why this product seems to work quicker on specifically large facial pores.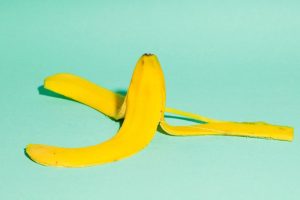 6. Jojoba Oil
This product takes away the clogged dirt materials and helps in minimizing the pore size and is suitable for all skin types
Take 4 to 5 drops of Jojoba Oil.
Just apply this oil on your face and massage it thoroughly so the oil is spread all over regions where open pores are present.
You should let the oil dry overnight.
7. Yogurt
Applying a mask of yogurt on your face every day can help to shrink your facial pore size quicker. The presence of lactic acid in yogurts not only carries away the dead cells but, also tightens the skin by increasing the elasticity for sun damaged skin.
8. Tea Tree Oil
The tea tree oil has an excellent astringent property that allows it to heal the facial skin and reduce the pore size. It also bears antibacterial and anti-fungal characteristics that make this product a natural remedy for treating issues like increased pores' sizes.
9. Honey
Honey is almost available in every home. This works as a shield when applied and kept it for twenty minutes on your face.
Wash your face with lukewarm water and then again with cold water. It softens the skin and makes the pores invisible by tightening them.
 10. Baking Soda
Baking soda works as antimicrobial agents and helps to regulate the pH level of the skin.
Mix one tablespoon baking soda in lukewarm water and apply the solution on your face.
Facial pores can be really irritable at situations when you have some special occasions to attend.
Quick Tips for Face Regime to Reduce Open Pores
Exfoliate your skin 2-3 times a week, to get rid of dead cells and unclogged pores.
Steam your face once a week or fortnight. This will open your pores properly and help you clean the debris and dirt beneath your skin.
Apply a natural face mask mentioned above after you take the steam. This will help you close the pores once the mask pulls off all dirt.
Clean your face daily with a face wash to keep it healthy and smooth.
Use a sunscreen (SPF) lotion whenever you step out of your house to protect your skin from the sun tan.
Exercise regularly, to get rid of the toxins in your body.
Drink lots of water and stay hydrated during the day.
Don't worry; using the above-mentioned remedies can help to get rid of pores within a very short span of time and are easy to follow. All you need to do is get into a disciplined routine with your skincare regime.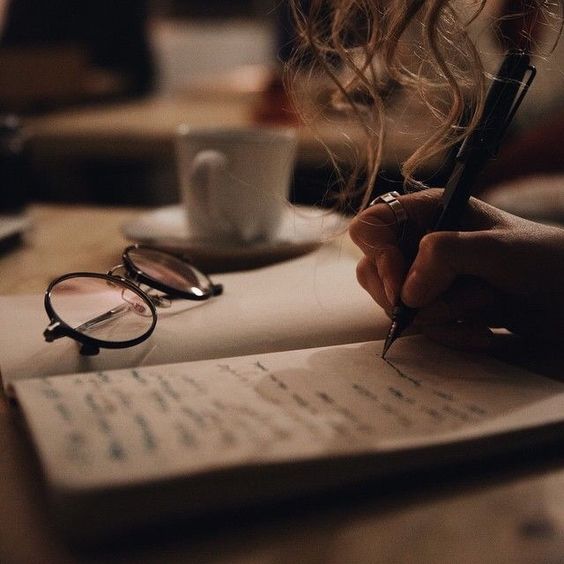 I'm Rhea, a fitness enthusiast, and a food lover. I am a housemaker, foodie, writer from NYC. I am a passionate writer and I love exploring places. Since I love cooking and working out, I am sharing my organic food recipes, fitness and beauty tips with the world. Trying to touch lives with some useful information.