This article comprises few tips and a brief guide to spotting a fake Louis Vuitton bag from the real ones, for the die-hard fans of LV Bags, who love the vintage collection, especially if it is rarer the better.
With the rising popularity of designer handbags, there are numerous luxury handbag sellers and resellers on Facebook, Instagram, various websites, blogs and some even have their own small boutiques.
So here is the real question, amidst so many counterfeits of LV Bags, how to check the authenticity of a real bag.
Editor's Recommendation: Spot a Fake MK Bag
When checking for the authenticity of a Louis Vuitton Bag, there are many things to consider and details to study.  The inside lining, the monogram, the stitching, leather, hardware detailing, the pattern and the alignment of the monogram, are a few things to consider before you buy the  LV bag you have set your heart on.
How to Spot Real Louis Vuitton Bags:
These signs will help you differentiate a replica from the real bag whether you purchase it online or offline.
Louis Vuitton Stamping
The focal Louis Vuitton Stamp is very important for authentication and more than often this stamping becomes a key factor in identifying a fake bag. There are certain features that you need to pay attention to especially the font Louis Vuitton uses to stamp its bags.
If you take a close look, you will notice that the tail of the letter 'L' is always short on an original stamping of the bag.
The 'O's are well rounded and appear bigger than L
The 'T's are very close as if they are touching each other. If you carefully notice, you will see that the letter 'T' is so close to 'I' that they together seem as 'IT'
The lettering on the stamping is very thin, precise and crisp.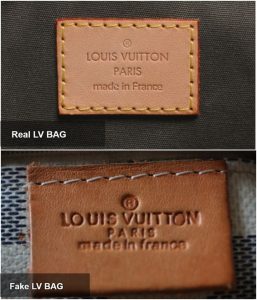 2. The Louis Vuitton Logo
The Logo of a Louis Vuitton Bag is almost a century old and it has never been yet changed in any manner. The logo is the same as it was created, there are no smudging at the edges, no blurring, any sort of tilts in the lettering.
The monograms are never crossed with stitches, folds or locks. Except for a few very old and vintage LV Bags, the bags have the LV Monogram on the leather canvas, symmetrically aligned from side to side. The bags are made from a single leather canvas, which means that the leather wraps from the front to the back, making the LV Monogram appear upside down.
Therefore, a genuine Louis Vuitton Speedy  Bag will have upside-down LV Monogram on the backside along with no seams at the bottom.
Now you know, if you spot LV Bag which is stitched from two pieces of leather, it is probably a fake one.
3. Stitching
A true bag from the LV collections of Speedy, Alma, and Neverfull has fine stitches in mustard yellow threading, evenly and meticulously done across the tabs where the handles are attached. The stitching on the tabs are neat and follow a pattern of 4 and 5 stitches. In case of the fake one, the stitching is not precise and neat, plus the color of the thread is bright yellow.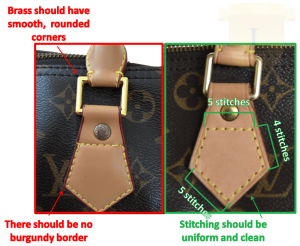 4. Leather and the Handles
A new and real Louis Vuitton Bag will showcase pale beige handles, which gradually turns darker with age due to oxidization.  The piping and handles of authentic LV bags are constructed from vachette leather, a natural colored cowhide that deepens to a rich honey color with time. This is a natural aging process of genuine leather. The leather absorbs oil from the owner's skin while handling the bag. The change in color is called the patina. If you find a bag which is marketed as vintage and there is no patina or the handles are still pale, it is a fake one.
The handles also have a burgundy trim at the edges, which also darken time. A knock off bag has bright red trims at the edges, which never fades or darkens over time. Also, keep an eye out for bags whose handles are wrapped with soft paper, polythene or tissue.
Only the replica LV bags will have so because the coverings ensure that the handles do not erode, fade away or the stitches don't come off.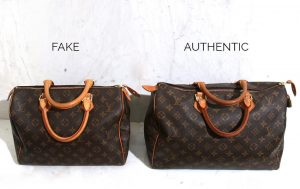 5. Lining
Louis Vuitton uses different linings for different collections of bags, but Monogram canvas bags are generally lined in brown cotton and Damier Ebiene Canvas bags traditionally have a red lining in microfiber. But if you're considering a particular bag, do your research about the interior lining of the product.
Every original LV Bag has a canvas lining in colors ranging from hues of grey and Alcantara. Damier Ebene Canvas bags have a red lining in microfiber.
The authentic vintage bags do no have suede linings, and till date, this designer company does not use brown or tan suede materials for their lining purposes.
If you have your heart out for a specific bag, do your research about its detailings as depending on the year of manufacture the lining may be different.
6. Zipper and Hardware
Firstly, check out for the LV Logo on the zipper pull. The logo should be sharp and clear in appearance.
The hardware used is always brass, usually golden brass or sometimes a silvery metal.
The rings connecting the handles are never round in an original piece. LV Bags use their signature D-shape rings.
The placement of the button on the handles is too close to the stitching in case of a counterfeit bag.
A real bag will have even stitching in the pattern of 4 and 5, not a stitch more, not a stitch less.
The goldtone of the button will be even and the finishing will be perfect. Unlike the fake ones, which have sloppy finishing.
7. Add-on Dustbags
Original LV Backpacks always come with cotton dustbags with neat seams with LV written on it. They come in tan and light brown colors. Recently, the dustbags come in light saffron color and instead of an abbreviation the full brand name is written.
8. Dating and Coding
The authenticity of your vintage bag is also determined by the alphanumeric code which each bag contains. This date code is usually comprised of 6 characters, the first 2 characters starting from the left are letters and the rest 4 letters are numbers. But, all the bags before 1980 does not come with a date code.  The bags in circulation after 1980  must have a genuine date code.
The date code of the bag specifies the date and place of manufacture of the bag. This evenly spaced dating and coding are found inside the compartment at the back of the pockets, of every single genuine LV Bag.
Check out the details of every country and their codes.
Made in Switzerland- DI, FA
Made in Germany- LP
Made in Italy- BC, BO, CE, FO, MA, RC, RE, SA, TD
Made in France- A0, A1, A2, AA, AAS, AH, AN, AR, AS, BA, BJ, BU, DR, DU, CO, CT, ET, FL, LW, MB, MI, NO, RA, RI, SD, SF, SL, SN, SP, SR, TJ, TH, TR, TS, VI, VX
Made in Spain- CA, GI, LO, LB, LM, LW
9. Price
The price is also a dead giveaway. Louis Vuitton is a luxury brand, offering you a fine handcrafted classy bags and backpack. These are never on sale or any discount. So if you spot a bag which is available at a throwaway price, it is most likely to be a fake one. Do not be duped into buying a counterfeit or cheap replica of an original.
Common FAQ's Answered
Q. Where are Louis Vuitton bags made?
A. Authentic LV handbags are manufactured in France and more recently, in the United States, Spain, Germany, and Italy.
Q. Are Louis Vuitton Bags made in China?
A. If a Louis Vuitton bag tag mentions"Made in China" on the inside, is it fake?  Yes, it is fake. Louis Vuitton bags are not made in China.
Q. What are the different types of Louis Vuitton Bag Styles?
A. Most popular LV bag styles are LV Monogram Bags, LV Neverfull Bags, LV Speedy Styles, LV Damier Bags and more.
Q. Do Louis Vuitton Bags come on sale?
A. No, Louise Vuitton bags are never available on sale. So if you come across some bags marketed as discounted ones, take your call, as you can determine them easily as fakes.
So, did spot out the fake bags and save your money from buying a replica. Follow the guidelines precisely and you are good to go. And if you have your doubts about a particular bag, always do your research.