Eyes are the heart to our soul, why not make it as beautiful as your soul is. Lucky are the ones who have got those ever so beautiful green eyes.
Why be ordinary, when you can easily flaunt that cool look on your green eyes. The best way to change and enhance your beautiful feature is to apply some amazing eyeshadow makeup on to it.
Editor's Recommendation: "Best Eyeshadow Ideas for Blue Eyes"
Wondering what eyeshadow goes with green eyes? We' got some excellent eyeshadow color options and lots of makeup ideas to enhance your eyes.
Best Eyeshadow Shades for Green Colored Eyes
There are a lot of shades which can complement your green eyes, but as your eye color is different so should be your eye shadow shades.
Try on a variety of colors in different combinations to see what works best on the green tone of your eyes.
Must-Have: "Best Mac Eyeshadows for Green Eyes"
1. Beige Eyeshadow for Your Green Eyes
What can be better than a subtle base color on your beautiful green eye? It will complement your natural eye color and this would be the perfect makeup for everyday outfits.
It is less of a dramatic and a day time color which can give you a good office look. It will give you a light makeup and minimalistic look.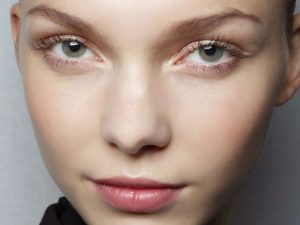 Check Out Prices of Beige Eyeshadow 
2. Brown Hue 
To match with the complexion of the skin and the green revelation of the eyes you can stop to watch the effects of brown eye shadow on the eyelids.
If applied individually it will give you a matte effect, but when combined with the rest of the shades it will make the eyes bear an intriguing appeal.
You can try different earthy shades from nude brown to deeper shades of tan depending on your outfit and occasion.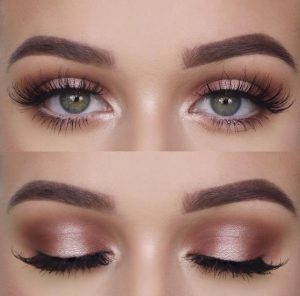 Check Out Prices of Brown Eyeshadows 
3. Golden Eyeshadow
What's more blingy and charming in your eye shadow pallet than the sparkly golden color?
It's the best party makeup combo which goes super well for the people having green eyes.
For added effect, use gold eyeshadow under brows for highlighting and black or silver eyeshadow inside corner of the eyes to add dimension and make green eyes attractive.
What are you waiting for put that glittery golden eyes shadow and you are ready to rock the party?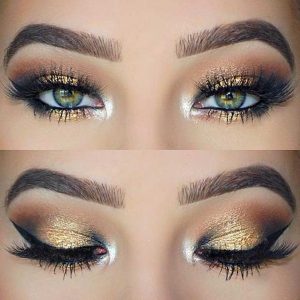 Check Out Prices of Golden Eyeshadows 
4. Olive Green Eyeshadow
This shade from the family of green is a unique combination to your green eyes, it will give your eyes a royal look and who says you can't match your eye shadow with the eye color.
This is one of the green shades to enhance the magic of the green eyes. One can indulge in applying the color majestically by blending it with tints of brown, gold, Smokey and the rest.
Check Out: "Urban Decay Eyeshadow Shades for Green Eyes"
Stand out of the crowd with this perfect olive-green shade. This palette of eyeshadow goes well with a brunette, blonde hair colors.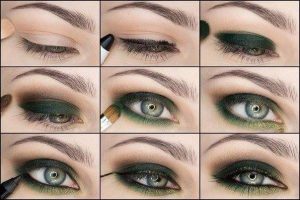 Check Out Prices of Green Eyeshadows 
5. Smokey Black Eyeshadow
This eye shadow tops the trend for every eye shade, especially for the green eyes. This is an everlasting color which will match your magnificent personality.
Check Out: "Almay Eyeshadow Colors for Green Eyes"
Redheads may use the elegant black shade for synchronizing the smokey effect in the iris. The result takes your look up several notches and makes you stand out with your dramatic eye look.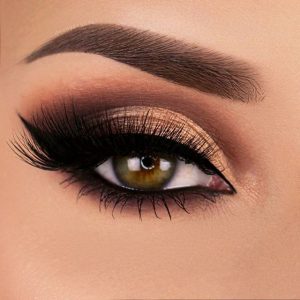 Check Out Prices of Black Eyeshadows 
6. Blue Eyeshadow Palette
This fresh shade would enhance your eye beauty so well. It will go on well with all the skin types be it tan, be it fair. Don't worry about the complexion and just go bold with blue.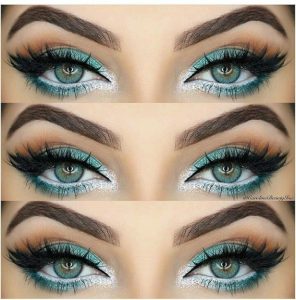 Check Out Prices of Blue Eyeshadows 
7. Purple Eyeshadow 
Purple is a contrasting color which can never go wrong with your green eyes. Every shade of purple compliments the green eyes and gives you that vibrant look making your eyes pop out.
For a party, you can try a combination of purple with a silver eyeliner and add the smokey effect to get a striking eye makeup.
Video Tutorial: Instructions to Make Green Eyes Pop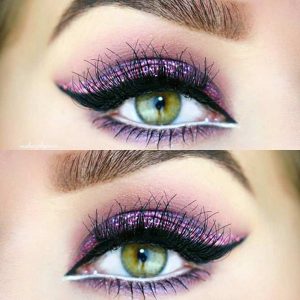 Check Out Prices of Purple Eyeshadows 
8. Red Eyeshadow
Red colored eyeshadow makes green eyes look incredible! Try using a beautiful, rich red shade on lids and then pair it with bronze shimmer crease.
The red eyeshadow instantly livens up eyes, especially if you are a fair-haired person with green eyes.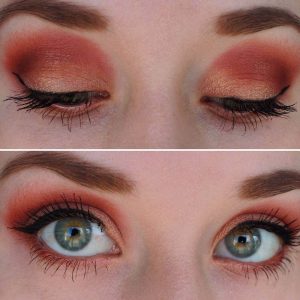 Check Out Prices of Red Eyeshadow
9. Pink Eyeshadow Ideas
This feminine shade looks really cute on all shades of green eyes. A perfect shade for young girls.
You can also use this shade lightly like a peach shade, for a day look that's professional and subtle.
While applying the shade, black, white, purple or silver eyeshadows can be used for a fusion look.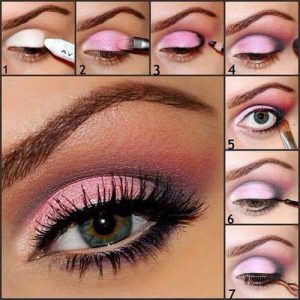 Check Out Prices of Pink Eyeshadow
10. Gray Eyeshadow
Like charcoal black, a good grey shade will really emphasize your green eyes.
Dab a coat of grey eyeshadow on lids and highlight your mascara, and you've instantly added big-time glamour to your look!
Silver doesn't always work well with green eyes, so make sure that the grey eyeshadow is blended with other colors like black or taupe to complete the look.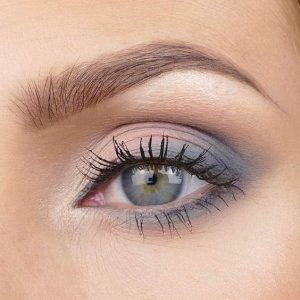 Check Out Prices of Gray Eyeshadow
Now you have a wide range of eyeshadow palette to choose from depending on your skin color, hair color, and tone of your green eyes.
Picking the apt shade will help you carry yourself with dignity. Don't choose something extremely pale. This will make the eye look dead and dry.
In fact, green eyes exemplify your personality and break the stereotype of the day to day life in monochrome.
So try some interesting shades and let us know what works best with your beautiful green eyes!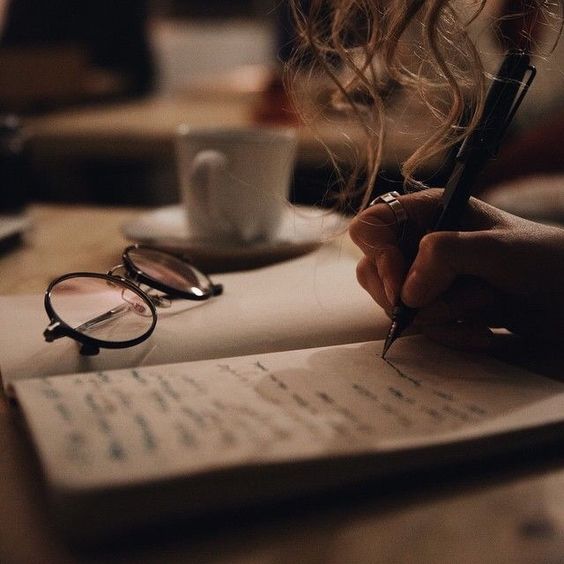 I'm Rhea, a fitness enthusiast, and a food lover. I am a housemaker, foodie, writer from NYC. I am a passionate writer and I love exploring places. Since I love cooking and working out, I am sharing my organic food recipes, fitness and beauty tips with the world. Trying to touch lives with some useful information.