Finally, you can bid goodbye to the curling irons. Naturally made curls are long lasting, but unless these techniques are used on moisturized hair it may look rough and get tangled fast.
Avoid brushing afterward as it can mess up the locks and try to finger comb them to give them a natural look. To give the curls a bright look, use hair gel or spray subsequently.
Top Ways and Tips on How to Curl Hair Without Heat Fast: For Medium & Long Hair
Give your curling iron a break and try these no heat methods and get gorgeous, flowy curls and locks. There are many methods for curling hair naturally but the hair has to be prepared well before adopting any of the methods.
1. Braiding ~ Quick Way To Curl Your Hair Overnight
If you have dead straight hair, the easiest way to create curls by braiding your hair. Follow the steps to get the perfect curls you long for.
Wash your hair and wait until almost dry.
Apply some serum to damp hair to prevent frizz.
Part your hair and braid it on either side.
For waves that begin close to the roots of your hair, create two French braids or boxer braids on either side of your head.
The curls will take some time to set, keep them for 5-6 hours if you need quicker results.
For maximum impact and wavy curls sleep overnight and release braids in the morning.
How to make braids to curl your hair naturally ~ Video Tutorial Here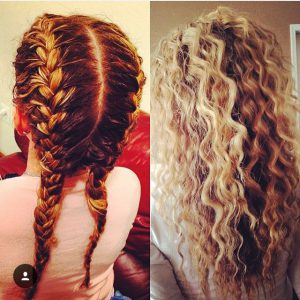 2. Pin Curls
Don't have curlers at home? Just follow the method and get natural curls without heat and curlers.
Shampoo your hair and condition it well. Towel dry it and detangle hair using a wide tooth comb.
Take a strand of your hair from the side wrap the end around your index finger to create a loop.
Hold it in place tightly, with your thumb and index finger.
Roll each section upwards until it is rolled up to the roots.
Hold the rolled up section flat against your scalp and secure it with a bobby pin/hairpin.
Wrap your hair with a soft scarf to keep the pins intact while you sleep.
Undo your curls in the morning.
Gently finger-comb your hair to get the curly look. Use some hairspray for extra hold.
Instructions to Curl Your Hair With Pin Curl Method ~ Video Tutorial Here
3. Curl Your Hair with Rollers
There are a variety of different types of rollers like velcro and foam. Velcro rollers are a classic. Put them in dry hair to add volume and curl.
For tight curls choose smaller sizes, and for big voluminous hair with waves, go for larger ones.
Wash your hair with a shampoo and conditioner and dry it with a towel.
Comb and part your hair strands in several sections.
Roll your hair upwards with a roller and
Ensure that you are rolling upwards until the rollers sit snugly against your scalp.
Repeat the steps until all hair is sheathed in rollers.
Keep rollers for 5-6 hours for best results.
Gently remove the rollers and enjoy the curls.
A step-by-step guide to curling your hair at home with rollers ~ Video Tutorial Here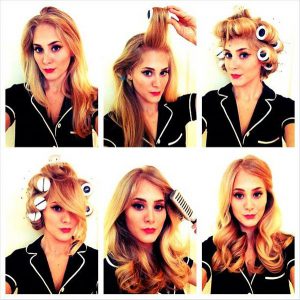 4. Sock Bun Waves
Learn how to curl hair every day without damaging your hair by using heat. This is the perfect way to attain gentle waves in your long hair. Your hair will look pretty while it is being curled.
Take an old sock with the toe part cut out and roll it into a doughnut shape.
Wash your hair the way you usually do. Blot it dry with a towel.
Pull your hair into a ponytail at the top of your head.
For more inclusion of hair keep the sock rolling.
Continue rolling and tucking until you reach the top of your head.
Secure the bun with the help of pins/clips.
Sleep in with the bun and loosen it in the morning for gorgeous tumbling waves.
Follow the no heat method to get wavy hair ~ Youtube Tutorial Here
5. Using Old T-shirt for Natural Curls
Take your old t-shirt and cut it into thin long strips.
Part your hair into sections.
Take a small section of your hair, and roll the strip and the hair upwards till your scalp (or till as much as you want).
Roll inwards so the curls turn towards your neck.
Tie the end of the strip to hold the hair in place.
After all the sections are done, pin them down.
Repeat this for all the hair.
After all the sections are done, pin them down
Release the strips after some hours
Learn how to make hair curly without heat: Video Tutorial Here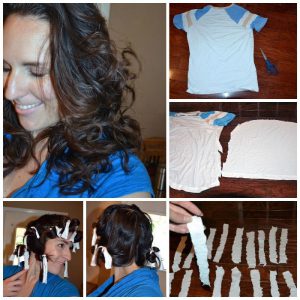 6. Headband Method
While your hair is slightly damp, wrap a headband around your head.
Take sections of your hair and twist around the hairband until all the hair is within the band.
Once you get to the end of your hair, pin it to secure in place.
Let it stay overnight before releasing the next morning.
Gently remove the headband and pins, and unleash your curls.
Headband trick for spiral curly hair ~ Watch Youtube Video Tutorial Here
7. Twist Buns
This is one of the easiest ways to get some quick curls in minutes.
Dampen your hair by washing or using a spray bottle. It would be a good idea to use a volumizing shampoo.
Gather the first section into a high pigtail and start twisting until it resembles a rope.
Keep twisting the hair around itself until you reach the end and secure with a hair tie.
Once your hair is dry, undo the twisted buns and run your fingers through your hair to comb it.
Learn the trick to curling hair with no iron: Video Tutorial here
8. Wrapping
Part your hair into sections.
Wrap them in bubble wraps or baby wipes.
Leave for several hours and unwrap.
Ways/Tricks How to Curl Short Hair without Heat
9. Bantu Knots
This method is my personal favorite because of the tight, springy curls it gives you. The Bantu method works well for all hair types and helps calm your frizz while giving you some perfectly defined curls.
Dampen the hair properly
Part them into small sections, and twist each section tightly around itself to form a small twisted bun.
Secure it with a bobby pin.
Repeat this until all of your hair is up in Bantu knots.
Wear a shower cap and leave it overnight.
Leave them overnight, releasing in the morning
Undo each coil, one-by-one, and finger comb your hair.
Learn how to make Bantu knots ~ Video Tutorial Here
This hairstyle is very popular amongst Afro-American women. You can style your short hair making such knots and attend a party.
10. Flexi Rods and Curl Formers
Wrap your hair around the curl formers or flexi rods properly, after combing.
Leave it for one to several hours, un-twirl afterward.
For the best result, the application of mousse beforehand is advisable.
Disadvantages of using Curling Irons and Heat on Hair
Hair Loss – Due to excessive heat, hair is weakened, and thus prone to increased hair loss.
Brittle and Rough Hair – Over styling also leads to low quality, brittle and rough hair.
Split ends – The heat emitted by the curling irons eventually gives more split ends than usual.
Loss of Shine – Excessive heat leads to dull, lifeless hair.
Curling hair with no heat method eliminates all the above-stated disadvantages and hence it is advisable to use our no heat hair curling methods the next time you feel like sporting wavy or curly hairstyle!
Advantages of Making Hair Curls without Heat
You get added volume in your hair with effortless curls and waves
Reduced hair fall due to reduced styling and combing of hair
Inexpensive and can be done at home anytime.
Applicable for all kinds of hair irrespective of length and colors.
Can be used for synthetic and artificial hair such as Kanekalon and virgin Brazilian hair extension.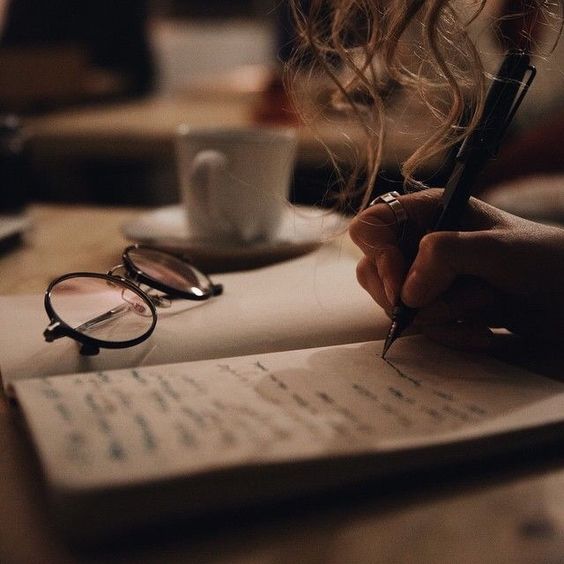 I'm Rhea, a fitness enthusiast, and a food lover. I am a housemaker, foodie, writer from NYC. I am a passionate writer and I love exploring places. Since I love cooking and working out, I am sharing my organic food recipes, fitness and beauty tips with the world. Trying to touch lives with some useful information.