A bigger and fuller lip adds a special dimension to the beauty of the face. Some possess it naturally, some earn it with the help of cosmetic surgery.
But there is no need to feel upset if you are neither a proud possessor of a fuller lip nor can you afford the hefty cost of a plastic surgery.
There are simple makeup tricks that are sure to make your lips look bigger and fuller without many efforts and bring back smile on your face.
1. Keep Your Lips Hydrated
To get a plump and rosy lip, it is important to keep it hydrated always. The best way to achieve that is to apply chapstick on the lips before going to bed and leave it overnight.
The lip balm will moisturize the skin of the lips and make it look younger. This will also add a natural glow to the lips.
2. Exfoliate Your Lips Well
Take a toothbrush and rub it lightly on the lips in a circular motion. This will increase the blood flow to your lips making them look plumper.
However, a note of caution is that the skin on the lips is very sensitive and hence too much pressure should never be applied to them. Apply as much pressure as you need to tap your smartphone.
3. Priming
Pat some concealer or lightweight primer on your lips and slightly over the lip line, for a bigger base. Application of foundation is also a good way to ensure that your lipstick doesn't slip off.
This thing provides a base on which you can decorate your lips the way you want.
4. Dab Some Lipgloss
Using clear lip gloss or a shade close to your lipstick color, apply a dab of gloss onto the middle of both of your lips. The shimmery product picks up light, making your pout look fuller.
5. Use Lipliner to Contour
Outline your lips with a lip liner that is 1 or 2 shades darker than your lip color. This will highlight the natural shadow of your lip and bring out a dramatic pout.
To make your thin lips look bigger, overline the cupid's bow starting from the tip of the bow and down to the corner of the mouth using a thin line. The line should gradually merge with the natural lip line on both corners of the mouth.
For this, it is better to use a shade that is close to the original lip color to give it a natural look. Now, use the same color to fill up the gap between the new lip line and the original one.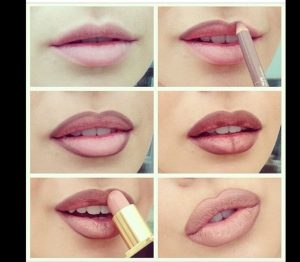 6. Apply a Matte Lipstick
Finally, apply the lipstick. But to get a perfect appearance of bigger lips it is always better to use matt lipstick which never highlights the overlined lip line. Shades of red are best for perfect pouted lips.
If you don't have a matte lipstick, dab translucent powder over the lipstick coat. You can also use skin- colored power on top of the lipstick.
7. Use Neutral Powder & Highlighter 
Once the lipstick is applied to dab a little highlighter at the center of your upper lip. Also, with the help of a concealer brush apply a neutral powder of darker shade below your lower lip.
The effect will be the appearance of an extra plumpness of the lips.
8. Taking Help of the Lip Gloss
You can apply a lip gloss at the center of your top and bottom lips. This technique will highlight your lips and make them look fuller.
9.Clean Up With a Concealer Brush
After application of the lipstick, you should clean up any harsh line using a concealer brush. This process will remove a sharp edge created by the liner and soften the lip line to give a natural look.
How to Make your Lips Look Fuller (Video Tutorial)
Some Tips to Make Your Lips Bigger Naturally (Without Makeup)
There are easy and natural ways to plump up your lips without paying a huge price. Here are some quick ones for your rescue!
Sugar Scrub
Take sugar powder and mix it with water and add 2 to 3 drops of lemon juice to it. Rub the paste so obtained on your lips. This will increase blood flow to your lips, enhancing the lip volume with a dash of rosy color.
Ice Massage
It is important to increase the blood circulation in order to make your lips look bigger. Rubbing some ice on your lips will compress your blood vessels to make them look red and plump.
Wrap a cube of ice in a clean piece of cloth. Massage on lips for about 2-5 minutes a day. This will make your lips look redder and definitely fuller instantly.
Moisturize with Peppermint Oil or Honey
Just a dab of peppermint oil or honey will have a soothing effect on your lips and make them super moisturized. Hydrating your lips is key to make them naturally fuller.
Cinnamon Mix Recipe
This is a homemade DIY hack popular amongst women. Add a mixture of cinnamon and olive oil together and apply on your lips Cinnamon is known to be a natural irritant. It will leave your lips feeling tender, soft and full.
Exercise
Regular exercising of your lips and face yoga helps to increase the muscle size and obviously if the muscle size increases, the size of your lips increases. Follow the video tutorial here.
No matter how small your lips are, always take good care of them and follow these tips to make them look perfect and alluring in no time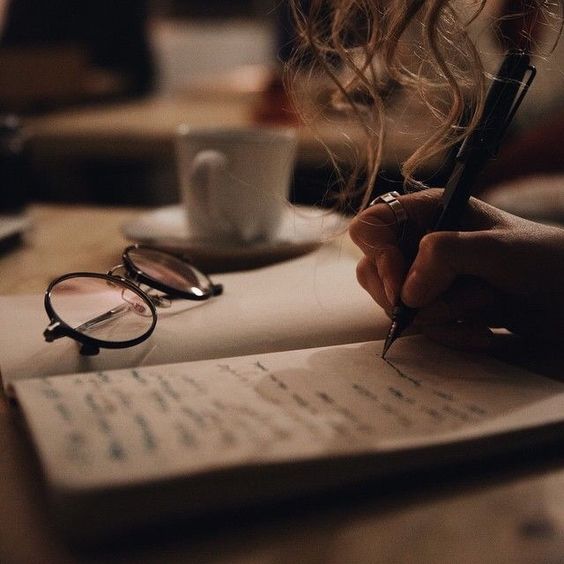 I'm Rhea, a fitness enthusiast, and a food lover. I am a housemaker, foodie, writer from NYC. I am a passionate writer and I love exploring places. Since I love cooking and working out, I am sharing my organic food recipes, fitness and beauty tips with the world. Trying to touch lives with some useful information.