Perfect fit is the most important styling tip for cool girls these days. But tailoring your shirts, t-shirts, and tops is a daunting task.  Luckily, there's another way: knotting! Twisting, knotting and tying scarfs and shirts can give you new options with old dresses.
A cute knot can completely transform a piece of clothing, taking it from shapeless to figure-flattering and fun in just a few seconds. Now you can rock your knotted tee or tank!
The knotted shirt trend is a rage these days, with popular celebrities sporting the
It's the trick fashion girls have been relying on for years. Read on for all the ways to wear it right here. Here's how!
How to Tie a Knot in a T-Shirt in the Front, On the Sides or At the Back
Sometimes it seems like nothing in our closet is quite right, but these styling tricks will help you figure out new ways to wear your clothes. These tips will keep you from saying "I have nothing to wear" ever again.
A Bun Knot for Tees/T-Shirt
Put on a loose t-shirt, blouse, tank top or tunic that has some extra material to grab. This styling method works best with an oversized or baggy top, it won't work as well with a fitted top.
Its advisable to avoid button-down shirts as they are usually made of thicker material and might get crushed.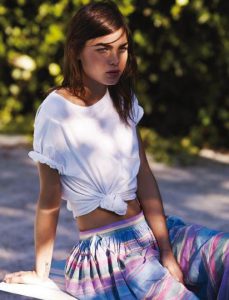 Steps to Tie A Bun Knot
Grab a handful of material from the bottom of your shirt starting at your belly button.
Once you've secured a good amount of material, start twisting it using thumb and fingers. You can pull it pretty tight because once you knot the shirt, it will loosen up.
Create a loop with your twisted material and pull it through like you're tying a knot.
Pull it tightly so the entire tail, as well as all the loose fabric around your fingers, passes through the hole and the knot holds snugly.
Make sure the knot is secure and enjoy your new cool look!
Styling Tip: A bun knot looks cool when used to tie a shirt at the back, or on the side too.
Step-by-Step Instructions: How to Knot a Shirt from Front (Video Tutorial Here)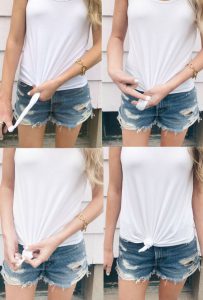 "It's low maintenance—once you have your shirt perfectly tied, there it stays, as opposed to the constant adjusting and re-tucking of a shirt throughout the day," says Vogue.com Market Assistant Olivia Goodman, no stranger to the artful knot.
Cool Ways to Tie a Button Up Shirt (Bunny Ear Knot)
Learn how to convert your collared shirt. That's easy, because, when you forget a couple of buttons and tie and twist it instead, the look is endlessly versatile.
Put on a short-sleeved or sleeveless button-up shirt, but don't button it up yet.
Take the 2 bottom corners of your shirt, and tie them into a double-knot around your waist—make it as snug as comfortable.
Button the shirt up the rest of the way.
You can also tie denim and plaid flannel shirts in the front with this knot. Pairing a knotted white t shirt with ripped boyfriend jeans has to be one of the most trendy fashion outfits.
It is a minimal outfit that makes you look stylish and casual.
Technique: How to Knot a Button Shirt (Youtube Tutorial Here)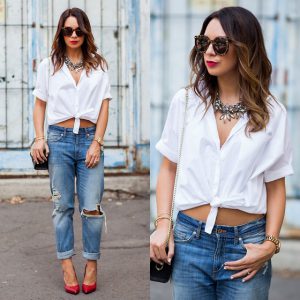 How to Knot a Shirt with a Rubber Band/Hair Tie
Styling your long tops or loose t-shirts with rubber bands is a cool way to give your wardrobe a new look. This creates a ruffled look in your T-shirt.
You can tie these knots with elastic bands in different places, like at the sides, back or bottom to experiment with your new look with these DIY Hacks.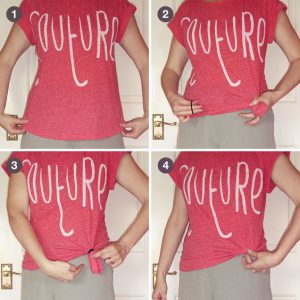 Place a finger where you think tying off might work.
Keep the finger in position while bringing the bottom of the garment up towards your chest so you can expose the reverse side where your finger is located.
Pinch and pull the piece of fabric where you are going to place the rubber band.
Wind the rubber band around the fabric. Make sure it is tight.
Check the end result to see if the placement and look are right for you. Repeat the process if necessary.
It's perfect for shortening the length of a top to create a more flattering silhouette. Great for hourglass and pear-shaped body types of girls who like a little waist definition.
Learn interesting ways to tie the Flower Knot, the Quarter Knot, and the Perfect Rosette with a hair tie or rubber band to your over-sized t-shirts or t-shirt dresses and sport a new look.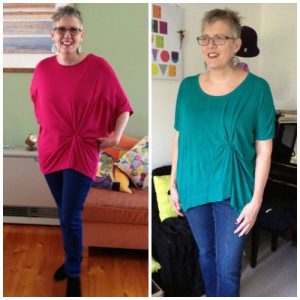 How to Cut and Tie a Shirt into a Crop Top
The above methods did not need you to use scissors or blades, but here is a way of turning an old discarded shirt into a fashionable crop top simply by cutting it and tying a knot.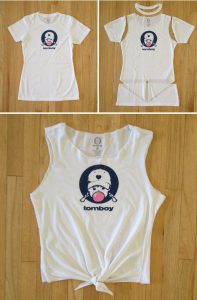 Cut the collar and sleeves off your T-shirt by the seams.
Decide on the length of your crop top and cut the shirt to that length, but only on its back side.
Now, trim off the bottom hem from the front side, and cut up around 6-7 inches straight along the center, length-wise.
Now start cutting diagonally from the bottom of the middle cut up to the same level as the cropped back of the T-shirt, on both sides.
Tie a knot with the triangular flaps formed in the front.
Follow the techniques above to make nice knots that make your big shirts smaller and give it a chic look. Needless to say, the cropped shirts bare your midriff.
Knotted Shirts paired with leggings or shorts will put everybody's focus on your perfect waistline. You would need to be confident to pull out the styles perfectly.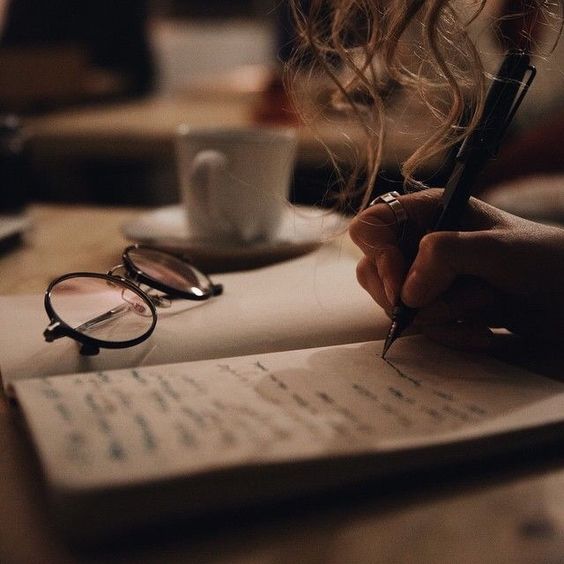 I'm Rhea, a fitness enthusiast, and a food lover. I am a housemaker, foodie, writer from NYC. I am a passionate writer and I love exploring places. Since I love cooking and working out, I am sharing my organic food recipes, fitness and beauty tips with the world. Trying to touch lives with some useful information.