Quite often, you'll hear beauty advice that says women with round faces should not wear their hair short. That's simply not true. You can wear short hair no matter the shape of your face, you just want to make sure to find the right haircut and style it right.
With changing times a lot of cultures especially the tribal communities in Africa and South America, women with short hair are considered beautiful.
From elegant ones to chic hairstyles you can have it all with a round face and double chin and still look stunning.
Shorter hairdos do not require much time and care. With regular hair wash and hair care, then they will remain healthy and shiny.
Most Trending Short Hairstyles for Round Faces with Double Chin (2018-2019)
1. Pixie Cut with Side Bangs
Though a little uncommon this short and smart pixie cut is trending in 2019 as one of the smartest cuts which will accentuate the charm of any woman's face with ease.
Pixies are the shortest hairstyles. They are quite versatile and look cool for most women, no matter their hair texture, body shape, and personality.
Experts say that women who have double chin look and a round face look remarkably well in short haircuts.
Whether curly or straight the hairstyle compliments all hair types. The pixie is a good cut for women with round faces, too. Consider adding some long bangs that are styled forward or up to create the illusion of length.
2. Short-Medium Bob Haircut
In no way does having a round face limit the short hairstyles you can wear. The most gorgeous hairstyles for round face shapes with a double chin are ones that work with your hair texture while giving you the appearance of having a more oval-shaped face.
This can be done in any short or medium bob cut. Cutting the hair short will allow it to fall on your cheeks, and frame your chin as well. It will help to solve the problem of your double chin.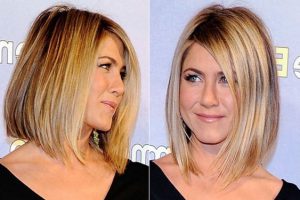 3. The Graduated Hairstyle
Graduated cuts, in which the back is much shorter than the front, are perfect for round face. A style like this adds dimension and interest, almost like a curtain that is instantly slimming to the cheek/chin area.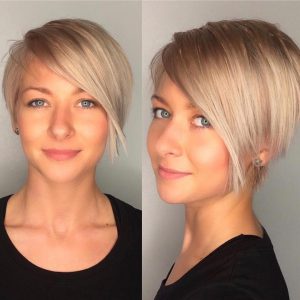 4. Short Layered Haircut
Another rule that's meant to be broken is the one that says curly hair should not be cut short. With the right cut and styling like this super short bob, it can be adorable!
To pull it off perfectly, you'll need lots of layers to reduce the volume. Also, it helps when the bob is cut above the chin because it accents the jawline and helps you noticed for your bounce.
Remember to get some tips from your stylist for taming unruly curls and hide your double chin.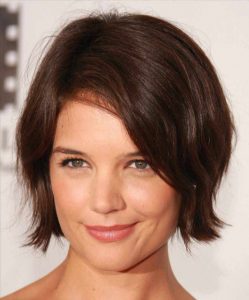 [Read: Double Chin Exercises]
5. Short and Curly
Thus, it is best for women with curly hair to keep long locks and gives you a modern yet sober look. If you still desire to flaunt a shorter style on that chubby cheeks, then curly short hairstyle is perfect for you.
The end of the locks will curl up, leaving you with an elegant and out of the world look which easily masks up the double chin and face fat.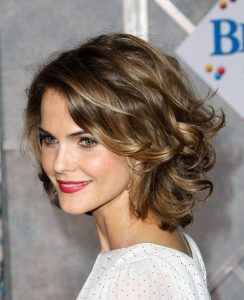 6. Messy Short Hairstyle with Bangs
As the name suggests, the haircut sports a messy look that needs considerable time to perfect. A generous amount of styling gel or spray is also needed to keep the short spikes in place.
This hairstyle is best for college students who like trendy and chic cuts. The entire hairdo works on many levels to give you the look you desire.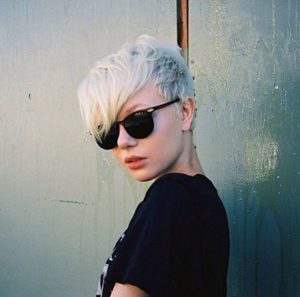 7. Inverted Bob Haircut
Though this style is trending these days in 2019, few women can carry it off well. This is one of the most flattering haircuts for double chin faces.
You need to part your hair in the middle on at one side and allow the hair segments to fall on both sides of the cheeks.
The hair length till the chin is ideal for those who want to hide their double chin. An ideal haircut with women with a round face and thin hair.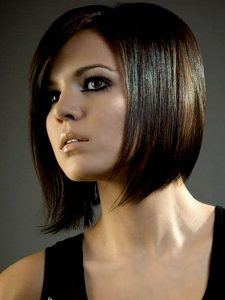 8. The Shag Hairstyle
Shag hairstyles are great options for any girls who don't want to go too short. This one is much shorter than most and it cuts a few inches off the typical long bob length.
It adds wonderful dimension, with long layers piled high and choppy ends that get much shorter in the back.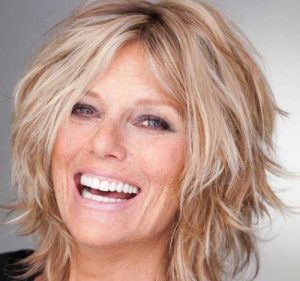 9. Asymmetrical Bob Punk Style
Punk rock hairstyles are making a huge comeback, and here's how you can make it your style statement. Start off with an asymmetrical bob and then bleach it platinum blonde.
You can go for an ombre effect on the longer side of the bob to finish off this totally badass hair look. A hue of purple or pink will look amazing.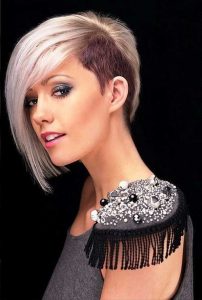 10. Barrel Curls Bob
To style, short curly hairstyles for round faces is that the curls have to be concentrated on the lower half of your hair instead of starting from the tips.
This blonde bob has been styled in barrel curls on the lower half and parted on one side to create a flirty and feminine hair look.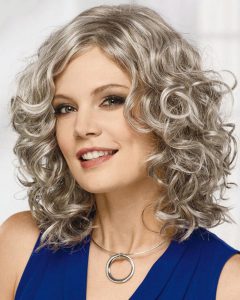 Please comment below to let us know which of these styles made you want to pick up your phone and make an appointment with your hairdresser today for a makeover!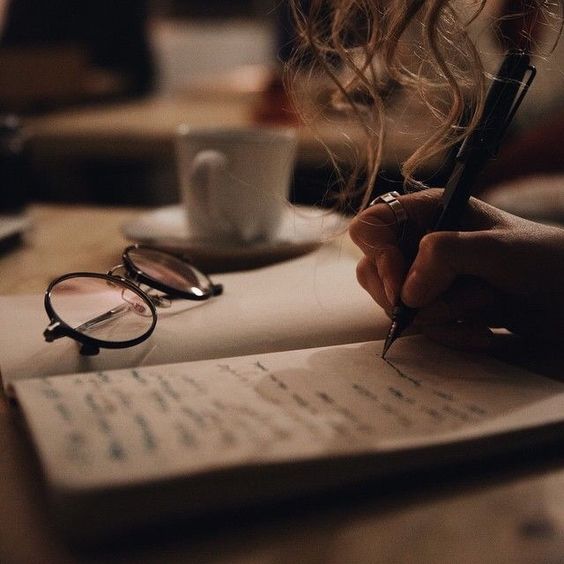 I'm Rhea, a fitness enthusiast, and a food lover. I am a housemaker, foodie, writer from NYC. I am a passionate writer and I love exploring places. Since I love cooking and working out, I am sharing my organic food recipes, fitness and beauty tips with the world. Trying to touch lives with some useful information.