In this social media frenzy era, taking photos and selfies is a craze that shows no sign of subsiding.
To keep up with the time and its pace, both men and women are trying their best to look as beautiful and attractive as possible.
But not everyone looks good cover photo for Instagrams and Facebook profiles.
Rare is the case when people look better in photos than what they are. Being photogenic is a precious quality not everyone possesses.
But that does not mean one cannot make efforts to look better in pictures.
Girls and boys fond of selfies always wonder, how to be photogenic all the time?
There are makeup tips and photographic tricks that can improve your appearance in images without using any photo editing software. 
Natural Tips on How to Look Good in Pictures
Being comfortable and confident in front of the camera is the easiest one to start with. Your discomfort will show on your face and your shoulders will look slouched. Be yourself and wear your prettiest smile while posing.
Present Yourself Smartly Before Camera to Look Photogenic
1. Be Aware of Half or Full Closed Eyes
Many tend to blink while posing for photos. This gives a weird portrayal of a half or full closed eye in the photo. To save this embarrassment, try to close your eyes before the camera is clicked and open it slowly when the photo is taken.
2. Double-Chin Dilemma
Double-chin mars many pictures giving it an unnecessary fuller look. To avoid this, stretch your neck high and push your face forward a bit. Tip your chin a bit down. This posture will give a better shape of your face in the picture.
3. Get that Perfect Smile
The question that haunts many is how to smile for pictures. It is an old-school red-carpet trick. Place your tongue behind your teeth while smiling. This will prevent you from a too wide smile.
TV host and supermodel Tyra Banks coined the term "Smize" on the reality show America's Next Top Model.   Smize means to smile with your eyes.
4. Light Effects
Lights play a very significant role in photography. That's why while posing for a photo look towards a light.
It will not only light up your face but also will shrink your pupils to add a sparkle to the eyes. Never stand under a bright light. It will cast a shadow on your face.
5. Take the Right Angle
Never face a camera straight. Create angels by turning your head to a three-quarter position to bring out the depth in your feature. Also, know which side of your face has a better profile.
Usually, people have their left profile better than the right one. Try to show the better side of your face in photos and relax your face.
How to Look Better in Pictures with Makeup Tricks
Makeup is a quintessential part of photography. To look photogenic, you must prepare your face with the right makeup techniques.
Prep your face with the right foundation and don't make it look too cakey.
Apply a thin layer of foundation to your neck and chest to ensure an even look and conceals all the marks.
Models can use high-definition(HD) makeup, which is designed to look more natural in photos than regular, caked-on makeup. It was created specifically to accommodate our current era of HD cameras.
6. Focus the Eyes
If you have small eyes, then curl your lashes and apply loads of mascara for a gorgeous look. Take care of the brows also. They provide a definition to your features. Fill them up properly, if necessary use one shade darker brow pencil.
You want to draw more attention to a picture, so you want to maximize the impact of the eyes. The more open they are, the more the light hits them and that makes you look gorgeous.
7. Colors for Cute Lips
A great tip for all the teenagers who love to pout and take hot selfies pictures!
If you have thin lips or your upper lips are thinner than the lower ones, then apply lip liner, lipstick, and gloss it for a fuller and plump look and pose with the perfect smile.
For pretty lips wear a bright lip color. Dark colors may make you look aging and unflattering. Stay away from matt lip colors as well.
8. Get the Right Hair Style
Ensure that your hair looks shiny and conditioned in the photograph. You can apply Spray-on shine to get the perfect look. Choose a hairstyle that suits your face.
9. How to Hide Large Forehead
Having a big forehead is perfectly fine, but if it a reason for you being conscious while clicking pics, then you have quick ways to draw attention away from it.
Wondering how to take good pictures of yourself with a big forehead?
Try long, heavy, rounded bangs, covering the brows and almost touching the eyes.
These look best on oval or long face cuts as a great way to cover a larger forehead and shorten the look of a long face.
10. Look Photogenic with a Big Nose
Researchers found that a selfie can make your nose appear about 30% bigger. To start with add some distance between the camera and your face! If you have short arms, try a selfie stick.
You can darken the tip of the nose with the makeup if the nose is too narrow. If the nose is too broad, darken the sides of the nose with contouring.
If the nose is crooked, darken the side where it should be straight.
Try taking the photo from the angle your nose looks best from.
11. A Dash on Sheen on Cheeks
Blushes are most important to highlight your features. Otherwise, you may look two-dimensional. Don't overdo with a blush. Use a medium pink shade and apply gently on your cheeks.
Use highlighters to add a soft glow to your skin but never ever try to look too sparkly in pictures.
If you have a round face or chubby cheeks you may get a little conscious with photographs. Contouring makeup techniques may help you to get sharper features in the pictures.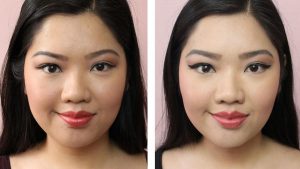 Quick Ways to Look Photogenic in Your Pictures
When you stand square to the camera, it makes you look wide! Instantly lose 10lbs by just turning your shoulders to a 45-degree angle to the camera (Tilt a little sideways)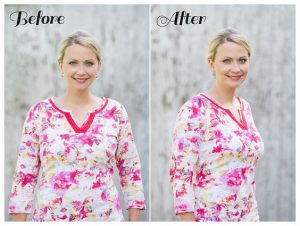 Another quick way to narrow those wide hips for the perfect picture is to stand with your feet shoulder distance apart with your weight on the back foot, and give your front knee a little bend. And there you get an Instant-waistline!
To get the best pictures, keep your chin forward, and down. It gives you a better jawline, eliminates any double chin, and makes your eyes appear bigger. So always think "chin forward and down" when having while posing.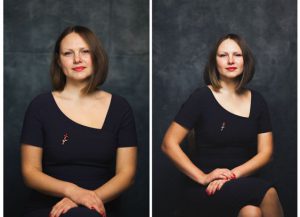 Always be squinching halfway between a squint and a wide-eyed stare, the "squinch," where you bring your lower lid up just slightly, will instantly make anyone more photogenic.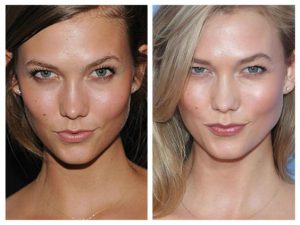 Yes, you have a beautiful smile. Be natural as opposed to fake looking at the camera and try being candid for the best pictures shot.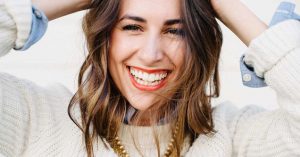 Step in front of a lighter or white background will make your face look brighter. It will also help the camera's settings to adjust to the color balance doesn't screw with your skin tone.

If you wear glasses, do not look at the camera flash, otherwise, it will hide your eyes due to the over-exposure of light reflecting on the glass.
A photo shot from just above you is way more flattering than one shot from below. If you're taller than the person holding the camera, get seated before you get clicked.
Grab a prop and make yourself comfortable. Holding onto an object such as a decoration or flowers can help you relax your posture and add personality to a picture.
Practice the best posture and look as cool and relaxed to get the best pics. Nothing ruins a photo like a hunchback or a crooked spine.
Conclusion
Empowered with all the information and techniques what you need to do is practice before the mirror and experiment with your looks before you face the camera.
These are the most important steps that will help you perfect the art of posing before the camera and get stunning looks in pictures that everyone will admire.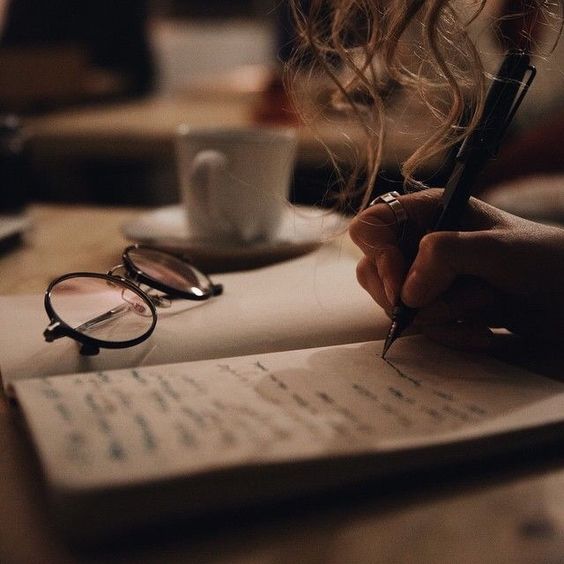 I'm Rhea, a fitness enthusiast, and a food lover. I am a housemaker, foodie, writer from NYC. I am a passionate writer and I love exploring places. Since I love cooking and working out, I am sharing my organic food recipes, fitness and beauty tips with the world. Trying to touch lives with some useful information.