Ladies! you must be tired of your eyeliner smudging, and smearing and ruining your eye makeup, especially on hot summer days.
If you have oily skin then it may further cause you eyeliner to smudge and be all over your eyes.
We've got some quick makeup hacks for locking your eyeliner in place, and prevent any smudging of your eyeliner.
You May Also Like to Read: "How to Wear Magnetic Eyelashes"
How To Prevent Eyeliner From Smudging: 10 Easy Ways
1. Cleansing Your Eyes
Your eyeliner may spread or smudge due to wet or oily skin. Clean and wash your face with a good face wash to remove excess oil from your skin and make it smooth.
2. Apply Compact/Face Powder
Dab a little compact on your face minimize the facial oil excretion, and keeping your eyelids dry and oil free.
Application of compact before putting on the eyeliner to avoids slipping off of the eyeliner. This technique helps in setting the eyeliner intact and in place and avoid any smudging.
3. Apply Primer
Apply a small amount of primer suitable as per your skin complexion and set it with a compact powder. This will create a base for your eye make up.
The eye primer helps in defining your eye shadow and setting your eyeliner in place.
Make sure your primer is dry before you apply the eyeliner, to make it last through even the most sweltering of hot summer days.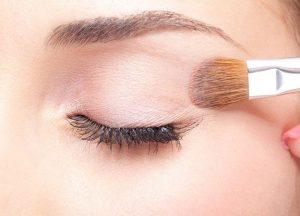 4. Applying a Dry Eye Shadow
If you want to apply an eye shadow then be sure its completely dry after application. The eyeliner will not set on a moist base.
5. Curl Your Lashes
Curl your eyelashes  properly with the help of curler. The wavier your lashes, lesser the chances of smudging.
Do not curl your lashes after you apply your liner. Doing it after wearing your liner will take the liner right off!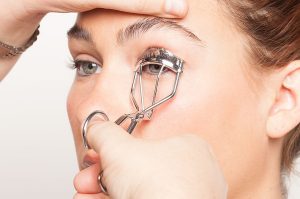 6. Apply the Eyeliner (Liquid, Pencil or Gel)
Finally, pick your perfect eyeliner formula depending upon your eye area.
The formula is important in preventing running of eyeliners. Waterproof eyeliners stay put better than pencils and are more resistant to sweat and smudging due to humidity.
Try applying the liner as close to the lash line on the eyelid and along the lower lash line if desired.
If you put the liner on both eyelids make sure to apply the fine endings with precision.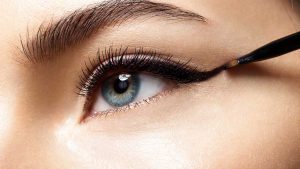 7. Seal it Up
If you waterproof liner doesn't guarantee smearless eyes, but if you're still nervous, sweep on an eyeliner sealers that are easily available today.
The sealer helps in setting the eyeliner in place and increase their longevity, until you're ready to wash it off.
8. Apply the Mascara
Apply mascara in the upper and lower eyelashes to keep the eyeliner intact all day long.
9. Powder The Lower Under Eye Area
Now powder the lower under eye area once again with a very light hand if you want to avoid smudging of your liner without using primer.
This will ensure and remove any fall outs left by the eye shadow as well as prevent smudging of the eyeliner.
10. Spritz Your Face
These setting spray like hairspray for your makeup and help to lock it in place and improve its wear time.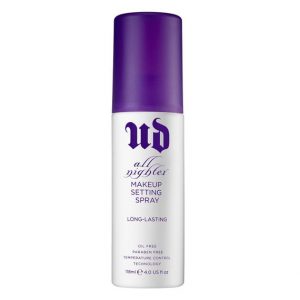 Common Mistakes While Applying the Eyeliner
Do not pull or tug your eye when you draw on eyeliner, to avoid any creases and smearing of the liner.
Do not use the wrong eye liner formula for your eyes.
These tips help you seal-proofed your eyeliner for good!
Now rock the day from morning to night with no fear smearing or running of the liner under the eyes.
How do you prevent eyeliner from smudging? Share your tips with us.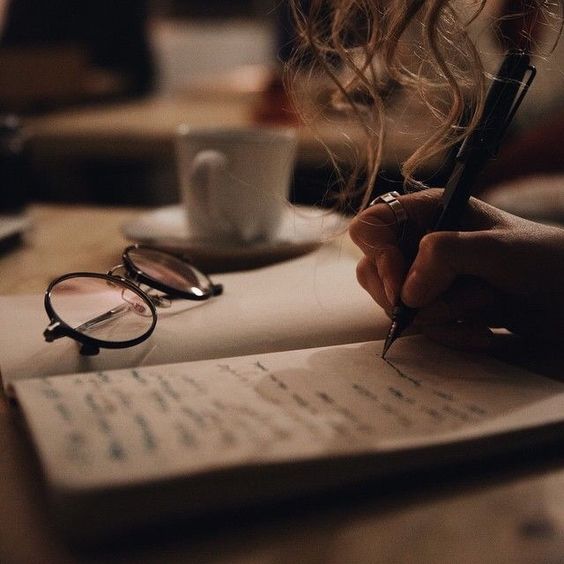 I'm Rhea, a fitness enthusiast, and a food lover. I am a housemaker, foodie, writer from NYC. I am a passionate writer and I love exploring places. Since I love cooking and working out, I am sharing my organic food recipes, fitness and beauty tips with the world. Trying to touch lives with some useful information.